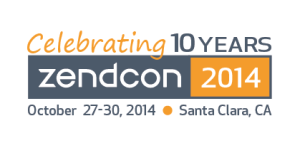 Are you excited to experience the magic of PHP in Silicon Valley -- the innovation capital of the world? Go to ZendCon -- a place to geek out in all things PHP with developers from around the globe. The event is from October 27-30, 2014 in Santa Clara, CA where you'll have the opportunity to meet experts such as Alison Butterill, product manager for IBM i and Alan Seidan, a specialist on PHP development with IBM i. I trust that you'll be inspired after this event.
Oh yeah, and did I mention that Profound Logic will be there? Make sure to check us out in the IBM Pavilion in the Vendor Hall. Alex Roytman will be there demoing the latest version of Profound UI along with its newest features for PHP Development.
You'll have the opportunity to learn something new about PHP or enhance your knowledge by pursuing three different types of conference tracks:
PHP Best Practices and Tooling
Continuous Delivery and Development Operations
Application Architecture - APIs, Mobile, Cloud Services
Unlike other conferences, this one lives up to the Silicon Valley name of embracing all things unconventional with UnConference aka UnCon. Have you heard of it? It's one of a kind. UnCon is an opportunity for participants, speakers, etc. to share a story or expertise with the conference goers as long as it's related to PHP and similar technologies.
Have something fascinating to share? Great! There's no pre-registration. Its first-come first-serve. You write your name on the white board that will be located in the main lobby. (Isn't that so cool?!) Perhaps you'll feel compelled to share something on the day of the event. Sign-up! Just do it! Inspire others with your knowledge. It's YOUR opportunity to shine.
Be part of the exciting PHP community. We hope to see you there!