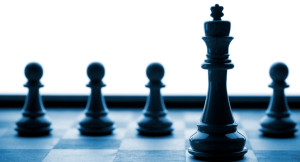 During every customer demo, the following question is asked, "How is Profound UI different and why should we go with your solution?" It is one of the most important questions customers ask and it deserves a well thought-out answer. Because, in a world of abundant choices, it is important to understand not only why our IBM i modernization solution is great, but how it differs from available solutions!
So here it is, my well thought-out, thoroughly researched answer to this question - enjoy!
Reason #1: Profound UI eliminates all ties to green screens through a conversion of DDS into HTML5 and integration with RPG Open Access.
It's true: other modernization solutions, even those that use RPG Open Access, still continue to put a screen on top of 5250. Profound Logic does not. This is NOT screen scraping in any way, shape or form! Why is this important? With Profound UI, you can build browser-based applications driven by RPG that can achieve the same UI design and functionality of any other software package or platform available. Here are some of the benefits of eliminating green screens:
Ability to merge multiple screens into one and add multiple subfiles on one screen
Drag and drop capabilities
Subfile column sorting
True scrolling through large subfiles, not just the ability to page up/down
Reason #2: Profound UI is 100% native to IBM i and is 100% browser based.
When you download Profound UI, it runs on your IBM i powered by Apache. Other vendors may require the use of a Microsoft server and/or installation on individual PC's. This will require you to purchase additional servers and components, which increases your total cost of ownership and creates a new host of security challenges. With Profound UI, there's no need to download and install updates on individual PC's, which significantly reduces day-to-day management and opens up System Admin's, IT Manager's and IT Director's precious time.
Reason #3: Profound UI stores screen metadata in traditional DDS members.
You should be aware that some of the other modernization solutions available cause you to store metadata in a format that may require you to purchase costly updates for your change management software, or, buy a new change management software package altogether. What makes Profound UI different? Our solutions don't require additional costs or processes to be put into play, and enable you to keep your exact change management process and software in place. You don't need to change a thing! You can read more about this in a white paper written by Scott Klement: http://www.profoundlogic.com/newsletter.rpgsp?12/04/2012
Reason #4: One set of tools for converting green screens and new mobile/web application development.
Profound UI utilizes the same set of tools for converting existing green screens as it does for new web and mobile application development. By doing so, we have significantly reduced the cost and complexity of modernizing your IBM i. With Profound UI, you only need to learn one new set of skills and it's one with virtually no learning curve. When working with Profound UI, RPG developers write programs using the same top-down approach they have always used, and any RPG operations that deal with displays are automatically understood by Profound UI and rendered in a capable rich user interface. The interface itself is created using a simple point-and-click, drag-and-drop environment. Why spend time learning two separate sets of tools, when you can learn one, and an easy one to learn on top of that?
Reason #5: Profound UI is built on open and standards-based technologies for modern Web 2.0 application development.
In addition to believing in the native power of IBM i and RPG, we feel the same about Web 2.0. Our tools utilize the most modern, standards-based technologies, including JSON, DHTML, HTML5, JavaScript, and CSS. Other vendors utilize less modern and more proprietary technologies. With Profound UI, you can rest assured that you are modernizing with a vendor that will keep its solution up to pace with new Web technology, eliminating the fear of being left behind just a year or two after purchasing new modernization software.
Trust me, there's more! This blog post could have included 20 bullets, including "Full-featured Trial Download" and "Open UI framework". But, when trying to decide on what software to purchase, you have to narrow down your buying criteria. We challenge you to try Profound UI for yourself and compare it to the other modernization solutions available and see for yourself! Click here to sign up and try a free 30 day trial: http://www.profoundlogic.com/download