This year's annual 'State of IBM i Modernization' survey focused on three key topics: the current state of the IBM i, the current attitude towards the IBM i, and what the future looks like for the IBM i. Profound Logic reached out to the community with a series of vital questions on these topics and we received nearly 800 responds from developers, executives and everyone in-between. This large scale response resulted in one of our most productive surveys, giving us a wide range of answers.
Traditionally, the negative view of the IBM i has been a roadblock for future development and modernization. This survey proves that that attitude is shifting, with more businesses having more confidence in the platform than in the past. Concerns are still present - a diminishing developer pool and outdated interfaces for example - but none that can't easily be addressed to ensure a long and healthy future for the IBM i business.
This three-part blog series will dive into the key topics discussed within the survey: This week we discuss the Current State of IBM i.

What Version of IBM i are You Currently Using?
Compared to the previous year, there has been a significant increase in the number of users who have upgraded to the most current version of the IBM i (7.3). This is a clear indicator that businesses intend to remain on the IBM i platform. With more new and exciting capabilities coming in the near future, companies are beginning to see the future of the platform come into shape and want to be ready to implement these capabilities immediately.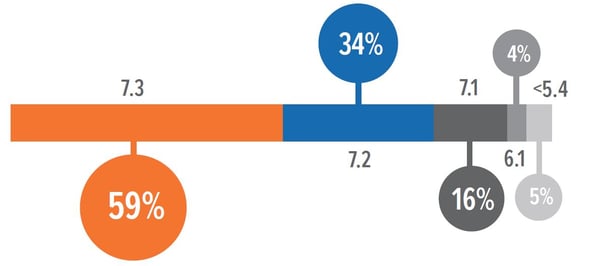 What Percentage of Your Third-Party Applications Use a Graphical User Interface (GUI)?
These results clearly show that most IBM i businesses (almost half) are still using green screen interfaces for their third-party applications. Nearly a quarter indicate that the majority of their third-party applications have some sort of modern GUI. These results can indicate several things including end users being more comfortable with green-screens or the third-party applications that are being used not offering a GUI option. This gap in graphical user interfaces can contribute to the traditionally negative view of the IBM i platform. It is encouraging to see the number of users that are using a third-party GUI for the majority of their applications is on the rise, but there are still many IBM i shops that are not taking full advantage of these options.

What Percentage of Your Business Applications Run on the IBM i Platform?
These numbers are pretty consistent with last year's results with a slight uptick in the percentage of applications run on the IBM i. This figure should give businesses confidence in the power of the IBM i with 65% of participants saying that more than 50% of their applications are trusted on the IBM i and nearly half say that more than 75% of their applications are run on the IBM i. The 10% that run fully on the IBM i show others that IBM i can be trusted with all their applications if they desire.


Which of the Following Types of Applications are Used by Your Company?
No big surprises here: The majority of IBM i companies use a mixture of home-grown and packaged applications. The biggest take away from this is that businesses that use third-party apps will modify them by using their in-house development teams to help customize those apps to the needs of the company.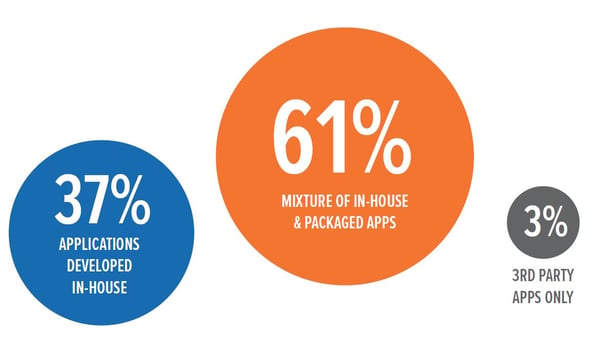 Which Programming Languages are You Currently Using in Your
Development?
For two years in a row, Free Format RPGLE is the most used programming language on IBM i. Fixed Format RPGLE is a close second with RPG III taking third place once again. The use of Java stays steady at 28%, although there is an increase in the use of Open Source languages. PHP moved down from 19% to 16% this year, but one of the biggest increases came from Node.js which has increased by 8% in only one year.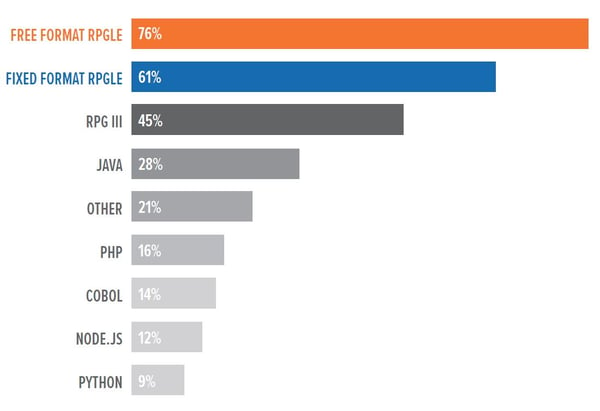 Next week we will take a look at some of the Current Attitudes Towards the IBM i. Didn't participate in this year's survey? No problem! Just leave a comment below with your answers to the above questions and tune in next week for the second installment.

---
About This Survey
The goal of the State of IBM i Modernization survey was to asses the current attitude towards the IBM i platform and determine the current/future plans for modernization. Here are some details of the participants in the survey.
What Size is Your Organization?


What is Your Role for Purchasing New Software/Hardware?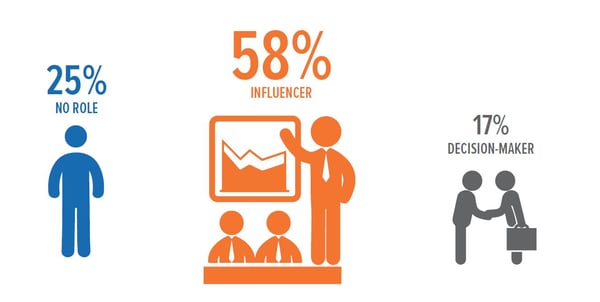 Which Best Describes Your Position?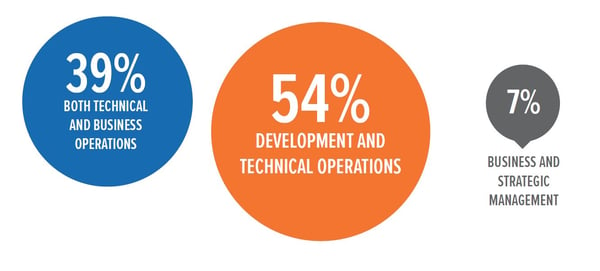 ---
---
Profound Logic's mission is to provide the most innovative and native solutions for IBM i application development and modernization. For 20 years, we have transformed thousands of legacy interfaces, developed modern desktop and mobile applications, and optimize enterprise systems. Our developers are true IBM i experts and fluent in modern languages that include RPG, PHP, HTML5, and Node.js.