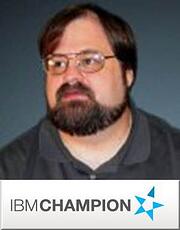 The OCEAN 2014 IBM i Technical Conference is just around the corner! If you're looking for a good reason, here are three of them from IBM Champion Scott Klement!
1) "We work in a technology industry. Technology, by nature is always changing, so it's important to be kept up-to-date in your area(s) of expertise."
2) "Networking with your peers is important, you should have friends you can call on or run ideas past."
3) "OCEAN's Technical Conference and Expo is the best resource for all of this stuff in the So Cal area."
You can network with Scott Klement, Author and Product Developer at Profound Logic Software, and an impressive group of other leading industry experts at the reception and dinner on Thursday, July 17, at the Avenue of the Arts Wyndham Hotel.
Plus, Scott will be presenting three sessions at the main event on Friday, July 18:
Three Approaches to Web with RPG - Most RPG/CGI applications that you see today use the open source CGIDEV2 tool to emit HTML. In this session, Scott will show you how to "upgrade" your CGIDEV2 application to use CGIDEV2 with a JavaScript framework. He will demonstrate how frameworks provide more functionality and make your program easier to maintain than emitting HTML directly. Then, he will compare the CGIDEV2 technique with the use of Open Access, to help you decide which approach is the best for you.
Working With JSON in RPG - JSON (JavaScript Object Notation) is quickly becoming an important document format for business data interchange, so what's the best way to process it from RPG? JSON provides the same benefits as XML, but is smaller (and so transmits over a network more quickly) and is much more efficient than XML to work with in web applications. Naturally, this means that your RPG business applications need to learn how to speak JSON in order to talk to many of the newer web services or exchange data with many tech-savvy business partners. In this session, Scott will explain how the open source YAJL tool can be used from an RPG program to process or generate JSON in an efficient manner.
Accessing External Databases from RPG - Ever wanted to access an SQL Server from an RPG program? How about MySQL, Oracle or even DB2? Although some database manufacturers may not make drivers for IBM i, it's possible to use Java's JDBC drivers from an RPG program. By the end of this session, attendees will be able to 1. Install JDBC drivers for use in RPG and 2.Write RPG code to issue SQL statements against JDBC drivers.
Register now as July 3rd is the last day to register at the discounted member rate of $195, which includes the Thursday evening reception/dinner and keynote by Alison Butterill, plus the Friday main event: Details & Registration
Thanks and see you at the conference!
Margaret Matthews - OCEAN VP Programs & 2014 Conference Chair