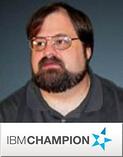 Now that it's less than two weeks before COMMON's Annual Conference in Anaheim, I'm starting to feel the excitement. There's a lot going on (as always) at COMMON, but here are the top 10 things that I'm looking forward to:
10) Education in the Expo Hall. Profound Logic is trying something new: "mini-sessions" that we'll be giving right at our booth. Usually, the Expo is just for seeing the products that are for sale, but we'll be doing some education there, too, this year… it'll be interesting to see how that goes! We'll be covering Mobile Development and Enterprise Modernization specifically, so stop by booth #202 in the Expo hall and see when the next mini-session starts.
9) The mobile theme. We on COMMON's Strategic Education Team have been working to bring some great sessions on how to make mobile apps that work together with IBM i. There will be sessions from vendors who have products that focus on this, as well as technologies like PhoneGap that make it possible for you to write your own. Can't wait to show people that mobile is not just for accessing data on PC servers – IBM i makes a great back-end server for mobile devices, no Windows needed!
8) I'll be able to see my Profound Logic co-workers again. Since I work remotely (from home) I don't get to them often but I'll get a chance to catch up with them at COMMON, and that's always something to look forward to.
7) Being back at Disney. The Disneyland Hotel in Anaheim has been one of my favorite locations for COMMON conferences. I love the fact that we are right next to downtown Disney with lots of restaurants to choose from.
6) Seeing lots of other great educational sessions. COMMON is still the largest conference in our industry with sessions on just about all Power Systems topics. I can't wait to learn some great new techniques that I can take back home and use in my work.
5) Profound Logic & Arcad's Modernize 2015 Seminar. On April 25, the day before COMMON itself starts, we're co-hosting a seminar focused on modernizing all aspects of your IBM i environment – from the database to the interface – with our partner Arcad Software. Taking part in the seminar are IBM's Alison Butterill, my friend and speaker-extraordinaire Charlie Guarino, as well as myself and others from Profound Logic and Arcad. I haven't done something like this before, and it's going to be great. The event is free, so even if you aren't registered for COMMON you can still attend! You can sign up here: http://info.profoundlogic.com/acton/media/4569/ibm-i-modernization-seminar
4) The Expo. Of course, I already mentioned the new stuff that Profound Logic is doing in the Expo, but of course, we're just one of many vendors who will be there. COMMON has the largest expo in the IBM i marketplace, and there will be lots of realty great solutions on display, not to mention the latest and greatest stuff from IBM!
3) The Networking Events. Whether you call then "CUDS" or "Power Down", one thing is for sure, you have a lot of fun and meet some of the best people at COMMON's networking events each evening.
2) Speaking again! I will be giving educational sessions on many of my favorite topics (as usual.) One of the greatest thrills for me at any conference is showing people the cool stuff I've learned how to do. I can feel the excitement and energy of the audience as they learn new stuff from my techniques. I love speaking at events like COMMON!
1) Re-connecting with friends, old and new. There are so many friends I've made in the IBM i community, which I believe is truly the best community of computer professionals in the world. I can't wait to see my friends again!
If you're attending COMMON 2015 in Anaheim, please stop by the Profound Logic booth (#202) or one of my sessions and introduce yourself. I always look forward to making new COMMON friends!