---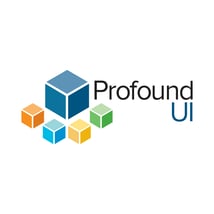 For companies that run on the IBM i platform (previously known as the AS/400 or iSeries) one of the greatest challenges can be transferring your interfaces into more "user friendly" applications for your employees and customers. We at Profound Logic aim to solve that dilemma for businesses.
---
Last week we discussed our Profound UI, a suite of modules that help ease the transition from legacy interfaces to more user friendly GUIs. There are 5 modules that make up Profound UI, and over the next couple of weeks we will be discussing each one by one. Today we will focus on the major module of Profound UI, the Visual Designer.
Previously, if an RPG programmer was to learn Web or mobile application development, it could take years for them to become proficient at it. Our Visual Designer tool changes all that. The Visual Designer is a graphic development environment where developers can use it's drag and drop and point and click functions to create professional looking browser interfaces. Java Script, CSS and HTML are all languages that are no longer needed to write rich and vivid web and mobile applications.
The Visual Designer comes with hundreds of cross-browser rich widgets... some include:
Maps
Subfile Grids
Mobile Devise Layout
Intelligent Charts
Tabbed Panels
Customizable Themes/Buttons/Fonts/Colors
Our Visual Designer approaches RPG development from a whole new angle. We wanted to make design much more intuitive for the RPG Developers which includes the use of field binding to the source RPG program and record formats. In addition we developed the Visual Designer for PHP development as well. You can take advantage of features designed specifically for PHP projects; flexibility is key to achieving agile modernization of your IBM i system.
Bringing your business into the mobile space is easy with the Visual Designer. Paired with our Profound Mobile product, the designer allows for smooth and easy transition from web based applications to mobile based applications. Some mobile features include: rotate and preview screens, mobile skins, widgets like a signature pad and navigation buttons, and more!
Our Visual Designer module is one-of-a-kind module that allows you to make easy to use web and mobile applications using your existing RPG assets as well as creating custom widgets to meet your specific business needs.
Interested in a demo? Check out our list of webcasts to see how it works!
---
Each of these modules on their own bring immense value to your company, and Profound UI contains all of them in one comprehensive, integrated suite. Over the next weeks, we will dive into each of the modules and discuss in depth their value. Next week we will look at the DDS Conversion Tool module and give you a better understanding of its value to your business needs.