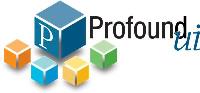 We're excited to announce that Profound UI 4.5 will be released at the COMMON 2013 Annual Meeting and Exposition taking place on April 7-10 in Austin, Texas. COMMON event attendees can see a live demo of Profound UI 4.5 at Booth #317 in the exposition hall.
For those of you not able to make it to Austin, we will have a Webinar on April 17th hosted by Scott Klement. Scott will demonstrate the new features and capabilities in this release:
A new Profound UI Open Source framework that gives you more control over the development software and eliminate vendor lock in
The addition of RPGsp to the Profound UI Suite, and what that means for your stateful/stateless Web development
SQL Security and parameter markers that make it even easier to use Profound UI's productivity enhancing features in a secure way
Enhancements to the Visual Designer, the Charts feature, and more!
Read more about this release and what else we have in store at COMMON 2013, including a new mobile app for the conference attendees, here: http://www.profoundlogic.com/press.rpgsp?prdate=2013-04-01