The future of the IBM i community has been a popular topic for some time now... where will we be in 5, 10, 20 years? Will there be enough new developers to replace the retiring ones?
This is why programs that encourage young developers to join the community are vital to the future of the IBM i platform. Programs like Common's Educational Foundation enable students to immerse themselves in the i community. But large organizations like COMMON aren't the only opportunity to bring new developers into the IBM i fold. Any business can create an internship program and give students hands-on experience that they will take into the professional world and shape the future of the IBM i community.
Profound Logic is committed to helping preserve the future of the community by investing in the programmers that will take over in the near future.
COMMON Educational Foundation
COMMON is a leader in the IBM i community and they show it with their Educational Foundation who's mission statement is "providing pathways to engage and educate a new generation of IT talent. One of COMMON Education Foundation's (CEF) primary missions is to nurture the development and growth of future IT professionals who will manage and support the computing systems of tomorrow. CEF's strategy is to encourage students and individuals (including those who have business experience and are considering career changes) to seek careers in the information technology industry, while providing them with supplementary educational opportunities along the way."
CEF offers several programs that help up and coming young developers. Programs like: Tuition Reimbursement Scholarships, Educator Sponsorship, Community Scholarships, and Student Sponsorship.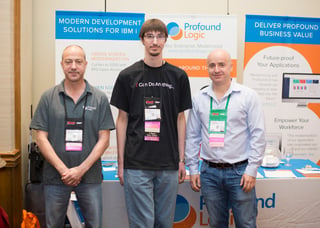 Profound Logic is proud to participate in CEF's Student Sponsorship program. This year we sponsored Nathaniel Mattocks from Pennsylvania College of Technology. While at COMMON, Nathaniel immersed himself in an environment where he could learn from industry professionals and network with the COMMON Community.
The information he took away from sessions , vendors, and members of the COMMON community has him excited about pursuing a career in the IBM i space. Additionally, Nathaniel took and passed the COMMON Business Computing Associate certification exam This enables him to not only leave with the information and connections he made, but also a credential to help him validate his skills to future employers.
Internship Programs
Internships are integral in building the future of the IBM i community as a whole, but can also be an excellent way to build your staff for the future. Internship programs require a certain amount of time, energy, and cost to the company, but the benefits will outweigh that investment.
Brian May, Director of Pre-Sales and Customer Solutions, has lead Profound Logic's internship program for over two years. Recently, Brian wrote a great piece for MC Press on his experience with cultivating interns. Brian gives his account of two separate interns that finished the program, saying:
"Staffing your development team should be a priority for your company, and risk management should be taken into account. If your team consists of only senior-level developers, or even worse, one senior-level staffer, don't be surprised when that vacancy happens and filling it is difficult. By employing interns and entry-level staff, you ensure a talent pool from which to draw as vacancies arise."

Profound Logic is determined to invest not only in the future of our own company, but the future of the IBM i community as a whole. Not every intern will stay on and become an employee, but if even one new developer joins the community and contributes to a company looking to fill a void, the investment is worth it!