---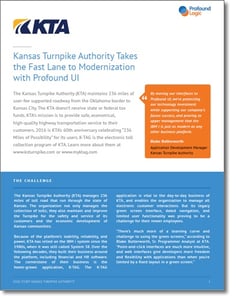 "By moving our interfaces to Profound UI, we're protecting our technology investment while supporting our company's future success, and proving to upper management that the IBM i is just as modern as any other business platform."


Blake Butterworth, Application Development Manager
Kansas Turnpike Authority
When faced with modernizing a decades-old IBM i (AS/400) application that has been maintained by several different RPG developers, it's easy to see how an IBM i development team might feel overwhelmed about where to begin. Not only could such a large-scale application modernization project be expensive, but it could potentially take a very long time and be very disruptive to the business.
Such was the case with Kansas Turnpike Authority (KTA). Their end users hated the old-fashioned iSeries green screen interfaces of their main application, K-TAG, and as a result, the IBM i platform had developed a pretty negative reputation in their business. They wanted an IBM i interface modernization solution that would be powerful enough to completely modernize their application and remove ties to 5250, but intuitive enough for their RPG development team to use and get up to speed with it quickly.
Our new case study explains how KTA was able to deliver modern IBM i application interfaces much faster than they originally planned, thanks to Profound UI's intuitive, developer-friendly features. The new K-TAG web GUI makes KTA's end-users and business management happy; significantly reduces training for new developers and users; and gives the company a bright future on the IBM i platform!