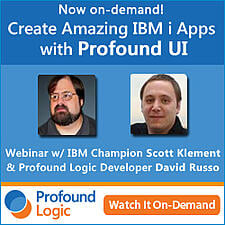 The future is modern. Are you prepared to meet the needs of your business?
One of the best ways to extend the value of your IBM i applications and meet the needs of your business is through application modernization. And thanks to Profound UI, this process can be easy and deliver incredible ROI!
Learn how to get started with Profound UI in this informative, on-demand Webinar with IBM Champion Scott Klement and Profound Logic developer David Russo. They'll guide you step-by-step on how to quickly deliver truly modern IBM i applications - not just screen scraping!