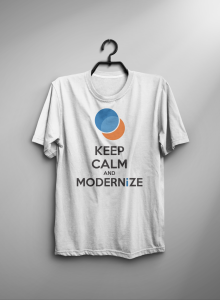 When's the last time you were challenged to be creative? Middle School? High School? We believe everyone is innately creative. We want to empower you to show it off with the rest of the community by sharing your IBM i modernization story.
Tell us how Profound Logic solutions (Profound UI, Genie or RPGsp) helped you successfully develop and deploy modern applications. Similar to Oprah's talk shows, all participants are winners! Just complete the form with your entry and receive a FREE "Keep Calm and Modernize" t-shirt. Share any of the following stories:

A brief synopsis of your Profound modernization project

An example of how your modern IBM i applications have benefited the business (Ex. improved workflows, faster training, support for remote workers)

Before-and-After screenshots of your modernized applications

A video of your development team sharing their modernization stories
Enter before the deadline (11:59 PM, October 2, 2014). You'll receive a free t-shirt and see your story featured on our #IAMPROFOUND Success Wall.
What are you waiting for? Share your story: http://bit.ly/1waXh5H. We can't wait to see your innate creativity come to life!