It happens... you want to attend an educational event, but your management pushes back. Maybe it's a timing issue - after all, you are a vital part of your team! Or maybe it's budget, and flying you out to a conference just isn't in the cards (or dollars).
Whatever the reason, we bet we can give you even better reasons for attending PLUS
(Profound Logic User Seminar) 2019! In fact, here's five just to start with. Share these with your boss, and make the trip to Orlando on November 12-14 happen.
Reason 1: Affordability
If lack of budget is the top reason why management pushes back on attending PLUS, we've got good news. We're extending our Early Bird discount to... well, all you "late" birds. You can automatically get $300 off the cost of your ticket by using the promo code "LATE" here: https://www.eventbrite.com/e/plus-2019-profound-logic-user-seminar-tickets-63917287327
Additionally, if you are a Profound Logic customer, attending PLUS is an excellent way to make sure you're getting the most from your Profound investment. Learning how to master tools like Genie, Atrium, Profound UI, and newer tools like Profound.js and NodeRun, will make you and your teams more efficient, saving your business money in the long run.
Reason 2: Hands On Training
Like I said above, the best way to get the full value of your Profound Logic investment is by mastering our tools, and there's no better opportunity for that than at PLUS. In addition to over a dozen product sessions, we also offer hands-on labs, self-paced labs, and educational keynotes. You'll learn about tools, solutions, and services you didn't even know we offer, taught by some of the top minds in the IBM i community.
Reason 3: Our Experts
We at Profound are proud of our thought leaders, including Scott Klement, Brian May, Ted Holt, and Alex Roytman. You can attend sessions by these experts at PLUS... and you'll also have the opportunity to network with them one-on-one! We offer loads of opportunities to pick the brains of these smart guys and learn from them how to solve issues, become your own business's expert, and plan for the future.
Reason 4: Future-proofing
Speaking of which, PLUS is the perfect opportunity to learn about taking your business into the future. According to our most recent Annual Modernization Survey, the top issues facing businesses on IBM i are outdated interfaces, outdated applications, and a diminishing developer pool.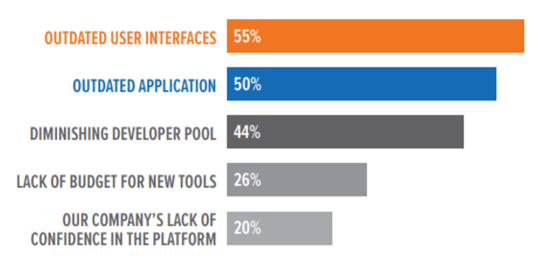 PLUS 2019 will give you the ammunition to attack all of those challenges. Our newest products and services empower developers just like you - and any new developers you add to your team - to create modern, integrated, portable, and cloud-ready applications using the latest technologies, including open source, Node.js, API and web services for all platforms and projects. We help businesses go beyond modernization, and you won't have a better place to start than at PLUS.
Reason 5: In Person Case Studies
One of the top requests we get from people checking out our products is to learn how successful other users have been with them. Case studies are a great way to let your management know you're moving in the right direction, and opens your eyes to how you can be successful with the right tools.
PLUS is essentially one big walking case study. You'll be surrounded by customers just like you who have been using our tools, and who want to learn and share in this collaborative environment. We even have customer keynotes planned where you can get inspired by their success, and get ideas for new projects.
Still need help?
If you'd like to attend PLUS but still need help convincing your management, just reach out to us and let us know. I guarantee that your business will benefit from this educational opportunity, and you'll leave PLUS feeling more energized and ready to accomplish great things!