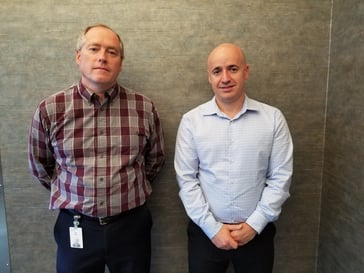 Alex Roytman meets with IBM's Business Architect for Application Development, Tim Rowe, at IBM's 'Driveway to Watson' Event
Earlier this month, IBM and COMMON held an eye-opening event in Rochester, MN, the home of IBM i.
The 2-day event, cleverly named "IBM i Driveway to Watson" introduced IBM customers and business partners to BlueMix Cloud and Watson AI capabilities, all from an IBM i operating system perspective. Customers from all over the world were able to see firsthand how IBM i applications can integrate with cloud and artificial intelligence technologies.
A variety of topics were covered, including Agile Development, Open Source, Design Thinking, Data Analytics, and Web Services.Because Profound Logic has made early inroads with Watson development, I was privileged to speak at the IBM event on behalf of Profound Logic and share with all attendees how Profound Logic's solutions - especially Profound.js which uses open source Node.js to modernize legacy application code - seamlessly integrate with Watson and brings Watson's capabilities to traditional IBM i applications and data.
I demonstrated Profound UI, Profound.js Converter, Profound.js Connector, and Profound.js Framework all used in combination with Watson, and it was very well received by everyone at the conference.
The three sample applications I demonstrated were:
Utilizing Face Recognition in an HR application to automatically clock employees in and out
Using Watson Natural Language API to search for keywords to find approved vendors
Deploying Watson Image Recognition API to classify accidents in an insurance application
You can view videos on these topics, plus other ways you can use Node.js on IBM i, on our Profound.js video page. We look forward to more exciting news about Watson in the future, and look forward to sharing that with you!
---
Our second annual Profound Logic User Seminar (PLUS) is coming up! Register today to reserve your spot for this three day seminar that includes: hands on workshops, key Profound Logic speakers, and both Basic and Advanced learning sessions. The Seminar takes place November 15th-17th. Register Today!
---