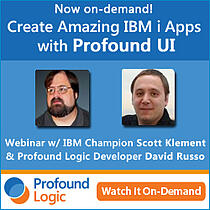 See just how easy it is to create amazing IBM i applications with Profound UI!
In this Webinar, Scott Klement and David Russo demonstrate the key features in Profound UI that make it the best choice for creating modern IBM i business applications using your own RPG code and programming assets.
You'll see how Profound UI enables you to:
Deliver modernized IBM i applications using an intuitive, robust and easy-to-use development toolset
Go beyond simply adding a "new look" to your apps, for true modernization with RPG Open Access.
Use your own RPG code and development talents to modernize.
Use your existing IBM i resources – no new servers to purchase or clients to install.