In our "Application Transformation Contest" last month we challenged our customers to show off their most impressive "Before" and "After" modernization screenshots along with a story of how it's affected their business. What they came up with even surprised us.
About 30 people entered the contest and each of them submitted stunning entries. This made it very difficult on our judges Scott Klement, Brian May, and Ted Holt—after mulling it over for the past week, they just couldn't decide on the three winners...so they chose four!
Today we proudly show off the cream of the crop, and announce....
The Winners
1st Place: StoneRiver
Prize: Ticket to COMMON 2016 in New Orleans
The entry that scored highest with the judges in all categories - Creativity, Functionality, Design, and Customer Improvement (ROI) - is StoneRiver.
StoneRiver, an insurance software solutions provider, realized they needed to provide a web-based solution in a hurry to stay relevant in today's marketplace. They came to us with an aggressive schedule to meet and we were happy to assist. They "found the Profound UI toolset to be intuitive with a very short learning curve" and were able to roll out their new UI to all of their active clients within a year.
"By modernizing our product, we were able to retain our existing client base. In addition, we now have cloud-based offerings that we were not able to provide previously. The modernization has provided huge gains in productivity for our client's users." —Mike Geldert, VP Software Development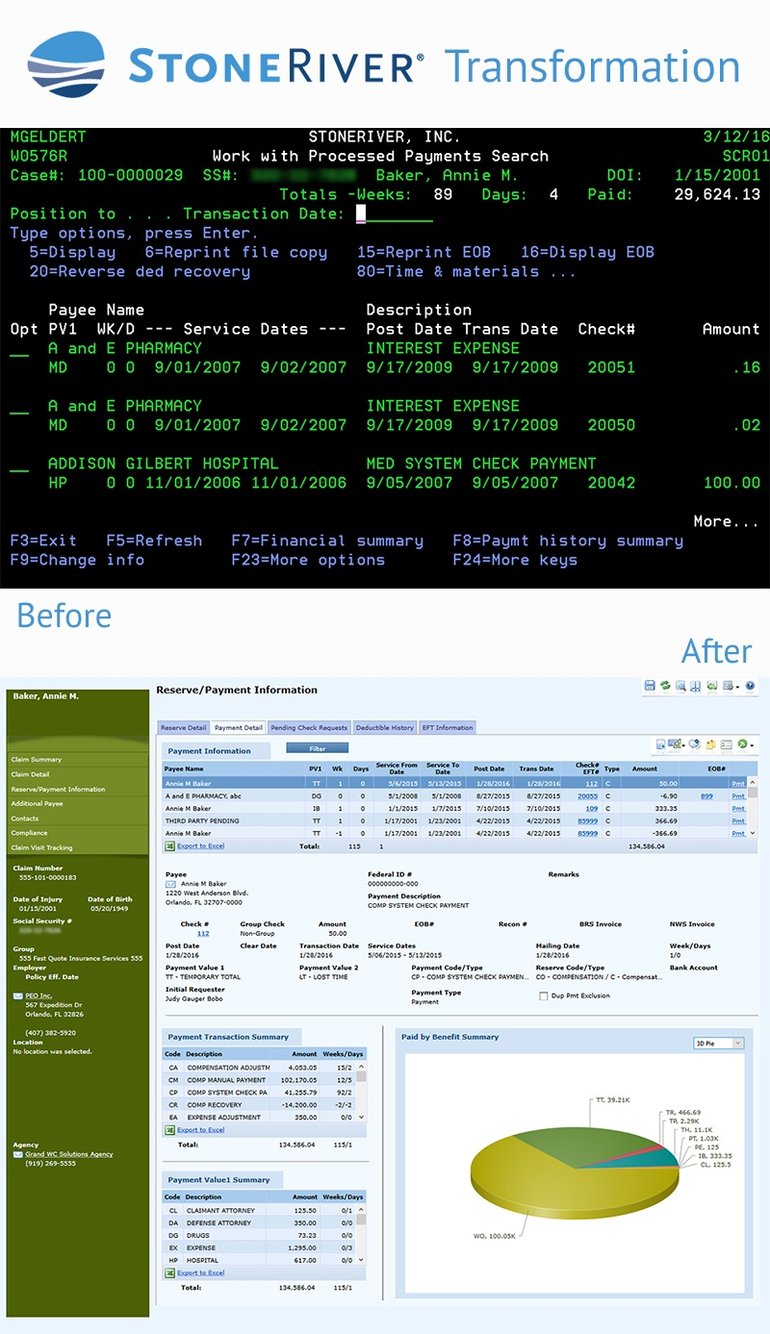 Click here to view full-size image
Runner-up - Design: McGard
Prize: $100 Visa Gift Card
The runner-up winner in the "Best Design" category is McGard.
McGard is a manufacturer of high quality security products, wheel locks and chrome-plated lug nuts. They felt the need to modernize their scheduling system due to a lack of information and analysis presented in their existing program. Additionally, managers had to fumble through a set of HTML pages and green screens to get the information they needed to fulfill orders.
With the help of Profound UI, McGard created a new streamlined application that gave managers access to everything they needed to fulfill orders on one dashboard. Not only is the new dashboard easy on the eyes and very modern-looking, it allows them meet customers' needs more quickly and efficiently.
"As in any business, being able to fulfill high priority orders on time is crucial to continued business with that customer. This program by all managers accounts helps them accomplish this." —Michael Rojek, Programmer/Analyst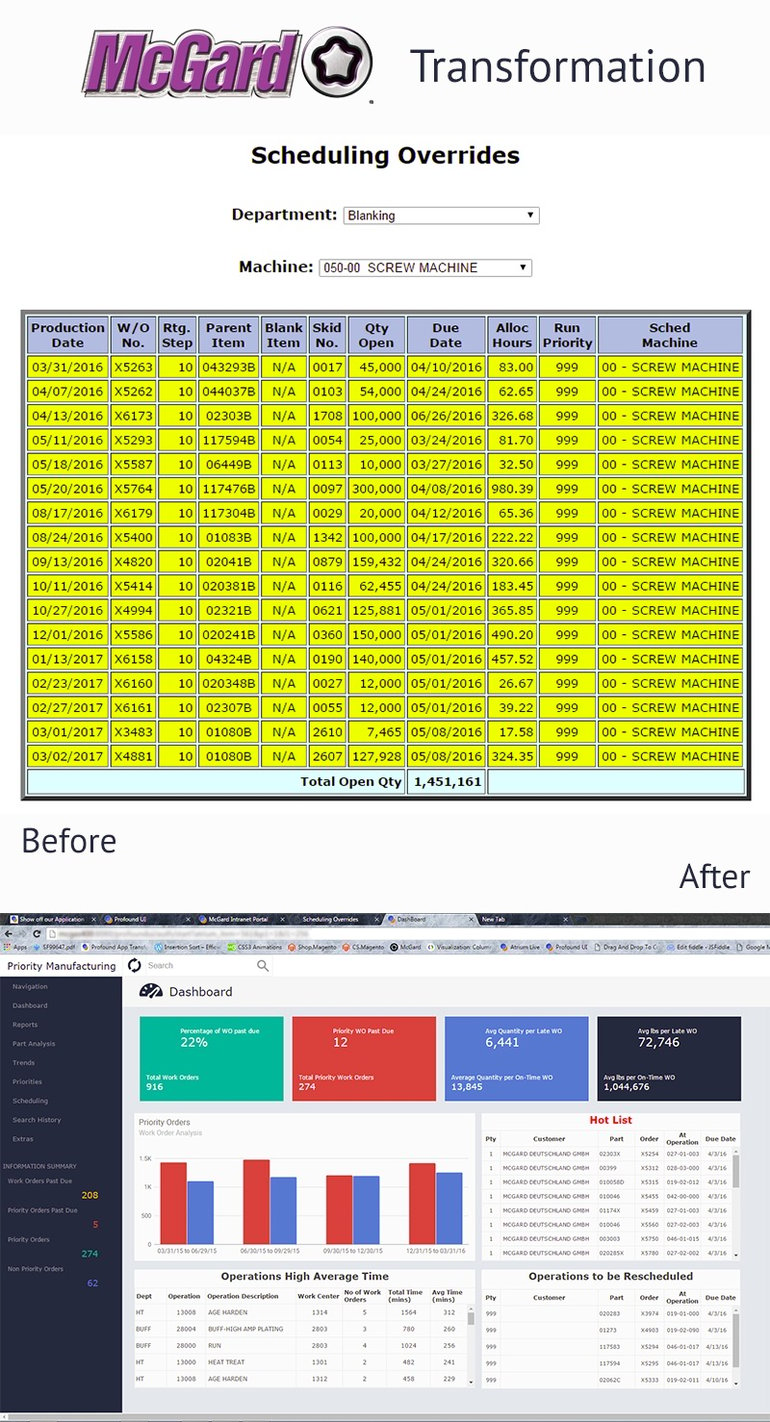 Click here to view full-size image
Runner-up - Functionality: Van-Kam Freightways
Prize: $100 Visa Gift Card
The runner-up winner for "Best Functionality" goes to Van-Kam Freightways.
Van-Kam Freightways is a premium freight service provider within British Columbia, Alberta, Eastern Canada and the continental United States. Van-Kam realized that some of their dock operations were incredibly inefficient, including an instance where forklift operators were hand-writing notes on a piece of paper to later be entered into a manifesting system. They decided to start there for their modernization project.
Using Profound UI, they re-designed their whole dock operations implementing tablets on their forklifts—removing the need for paper on the docks. Forklift operators are now able to provide real-time updates to their main freight management system.
"There is much more to this system behind the scenes that is hard to explain here but our forklift operators and lead hands are 100% on board with the changes...The biggest gain has been the forklift operators' ability to have access to ALL freight that is on the dock or waiting in a trailer to be stripped, something that paper could not provide." —Jim Higgins, Programmer/Analyst
Click here to view full-size image
Runner-up - Creativity: Integrated Corporate Solutions
Prize: $100 Visa Gift Card
Finally, the runner up award for "Most Creative" goes to Integrated Corporate Solutions.
Integrated Corporate Solutions specializes in the provision, integration and repair of all business technology solutions. Since much of their software is tied to the IBM i message system, alerting users of urgent conditions, they wanted to provide a solution that could occur on both the green screen and the browser side to improve accessibility.
With some good ol' coding involving IBM APIs and Profound UI, they were able to provide a unique, custom-made messaging solution that could be used by both a green screen user or browser user without any loss of functionality.
"Our clients made it known that they wanted a browser based system and would look elsewhere if we couldn't provide it. We then proceeded to convert every one of our green screen programs to PUI and the clients are still with us. So we think it is safe to say ProfoundUI pretty much kept us in business." —Eric Hill, Sr. Software Developer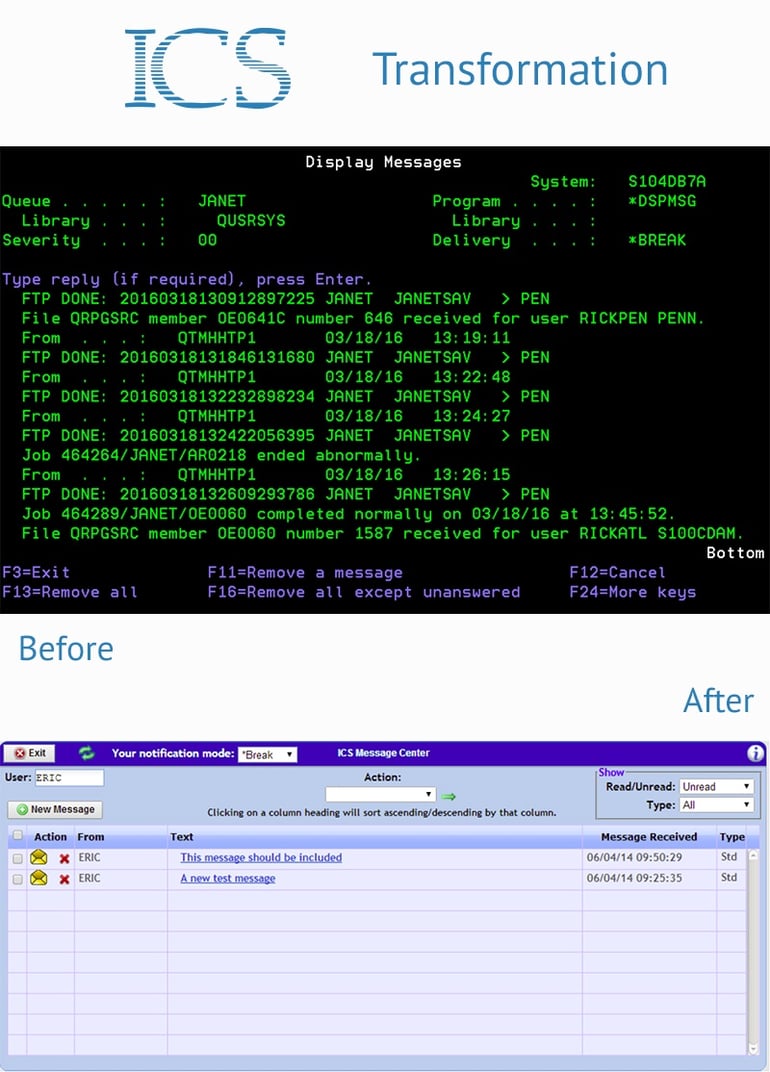 Click here to view full-size images
And that's it for now! There are many more impressive transformations we'd like to showcase but we'll save those for later. We'll let the winners have their glory today. :) We hope these stories inspire you to embark on your own journey toward modernization. These customers not only transformed their applications, they transformed their business.
To learn more about our modernization product Profound UI, visit this link for a free 30-day trial.