---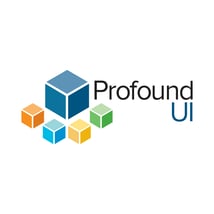 For companies that run on the IBM i platform (previously known as the AS/400 or iSeries), one of the greatest challenges can be transferring your interfaces into more "user friendly" applications for your employees and customers. We at Profound Logic aim to solve that dilemma for businesses.
---
Last week we discussed our DDS Conversion Tool, a tool that allows you to quickly convert your green-screen DDS source files into DDS source for Rich Display Files.There are 5 modules that make up Profound UI, and the next module we are going to discuss is Profound UI's RPG Open Access Handler.
The RPG Open Access Handler was the first to give IBM i shops the option of creating modern applications using IBM® Rational® Open Access RPG Edition. Working hand in hand with IBM to make any traditional RPG operations that deals with displays be automatically understood and it's outputs rendered into a capable rich user interface.
Some of the Benefits of the RPG Open Access Handler are:
Want to learn Web application development? Have a few years? In the past it would have taken you years to learn the proper techniques to become a proficient application developer... with Profound UI's native approach the learning curve is nearly obsolete. You use your own RPG code, design applications in the Profound UI Visual Designer, and the RPG Open Access Handler does the rest!
The RPG Open Access Handlers give you the freedom to use your applications on the web and mobile devices without having to rewrite all of your code. The Handler can also use your non-native methods like Java applets as well.
As you work with Profound UI's RPG Open Access Handler you will have the ability to write programs using the same top-down methodology, native RPG operations, coding techniques, and concepts like call stacks, level checks, sign-in sessions, subfile processing, that you are already familiar with.
Our RPG Open Access Handler is the simplest way to use IBM's Open Access RPG Edition to modernization your IBM i applications.
Interested in a demo? Check out our list of webcasts to see how it works!
---
Each of these modules on their own bring immense value to your company, and Profound UI contains all of them in one comprehensive, integrated suite. Over the next weeks, we will dive into each of the modules and discuss in depth their value. Next week we will look at the JumpStart Application Generator module and give you a better understanding of its value to your business needs.