---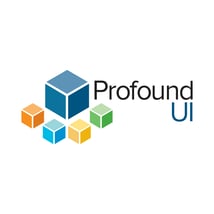 For companies that run on the IBM i platform (previously known as the AS/400 or iSeries), one of the greatest challenges can be transferring your interfaces into more "user friendly" applications for your employees and customers. We at Profound Logic aim to solve that dilemma for businesses.
---
Last week we discussed our Profound UI Visual Designer, a A browser-based design tool that lets you drag-and-drop your way to modern RPG and PHP applications. There are 5 modules that make up Profound UI, and the next module we are going to discuss is Profound UI's DDS Conversion Tool.
The DDS Conversion Tool uses an automated process to quickly convert your green-screen DDS source files into a DDS source for Rich Display Files. These native IBM i objects fully support a robust browser interface.
This will help eliminate the ties to the old 5250 character-based protocol for presenting your applications and simply recompiles your RPG programs into a rich user interface definition stored in the new Rich Display Files.
Some of the Benefits of the DDS Conversion Tool are:
Using the Profound UI suite you can easily convert your DDS to Rich Display files. In addition you can create and apply your theme (fonts, colors, etc.) to multiple display files using our Visual Desinger Tool. If your business has a large amount of display files, we also have a Mass Conversion Service as well.
Most IBM i moderinization tools claim to create Web applications, but actually they offer a screen scraper that simply takes your 5250 display and makes it "user friendly." Profound UI's DDS Conversion tool will take your application far beyond a simple screen scrap and allows you to have a robust Web 2.0 capabilities.
Using Profound Logic's DDS Conversion Tool allows you to add powerful functionality to your applications once they are converted to Rich Display Files. No more simple screen scraping. Also your applications will be able to support capabilities like scrolling, dynamic images, and drag-and-drop sections.
Our DDS Conversion tool is an advanced automated modernization tool that gives you true Rich Display Files.
Interested in a demo? Check out our list of webcasts to see how it works!
---
Each of these modules on their own bring immense value to your company, and Profound UI contains all of them in one comprehensive, integrated suite. Over the next weeks, we will dive into each of the modules and discuss in depth their value. Next week we will look at the RPG Open Access Handler module and give you a better understanding of its value to your business needs.