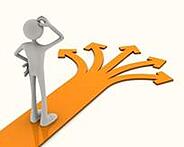 Choices, choices and more choices. At the supermarket you can choose from over 100 different cereals. At dealerships you can choose from hundreds of different car models. Why should buying IBM i modernization software be any different?
I often hear customers say, "To be honest, I'm just completely overwhelmed with this whole process of trying to find the right green screen modernization software." I don't blame you. It's a confusing process. With so many vendors and so many different methodologies, determining how to find the right modernization software for your RPG applications can be a project within itself.
It doesn't have to be that hard though. Here are 5 tips to help you focus on what's really important:
Tip 1: Clearly define why you are looking to modernize your green screen applications and build a roadmap. Get a clear understanding of what needs to be improved and why. Work with different user groups to truly understand what UI improvements would benefit them the most. Understand the business benefits that modernization can achieve and outline these in as much detail as possible (this will also help when seeking management approval). Think 3, 5, even 7 years down the road as to what your company's goals are. Ensure your roadmap lines up with the available solutions, as not all of these solutions scale as well as they claim. Perhaps, down the road you plan on doing a mobile application project or writing more server side code in PHP. Keep these long term goals in mind when evaluating solutions.
Tip 2: Conduct a Proof of Concept. Whether you do it on your own, or hire the software vendor, make sure the software works as the vendors promised and that it does so on your system, with your data and your programs. Select a portion of highly used screens, walk the vendors through how the screens work and share with them how you envision them working. It is important to throw out as many ideas as possible. Share your wildest dreams and see if the vendors can make them happen.
Tip 3: Download and use a trial. Narrow down your list of vendors to 2 or 3 and use their trials. Make sure the trial you are using is the same version of the software you plan on purchasing. Some vendors will market specific solutions, such as 100% browser based software, but will push you towards a PC based trial. Ensure you try the exact version of the software you want to purchase.
Tip 4: Build a focus group. Bring together those who will be using your modernized system day in, day out for their feedback. They may see things and make recommendations you never thought of, and they will ultimately be the "customers" you need to make happy. Doing this now can save a lot of tweaking and custom development at later stages.
Tip 5: Speak with references. Software vendors can say whatever they like. Nothing can dispel myths and extravagant claims like a conversation with a real live customer. Make sure to come prepared with a list of questions and ensure you spend some time talking to the reference about the other solutions they evaluated. It is critical to get insight from other customers as to what they discovered when comparing and contrasting solutions. Many others have gone through the process you are going through, so why not leverage their knowledge?
As I said, choosing a solution to modernize your applications may take some time and planning, but in the end - when you have the right solution for your business - it's worth every second!