---
Artificial Intelligence (AI) like IBM's Watson has quickly emerged as the newest (and some would say, the best) transformative technology for business'. AI enables companies to gain a significant advantage by augmenting human expertise to help unlock new intelligence from data and use it to develop predictive insight. The shift to systems that can reason and learn from both new and old data can significantly benefit a company, making your business technology an asset to your bottom line.
With the rising demand for AI technology, estimates project that the AI market will grow $2.5 billion in 2014 to more then $12.5 billion in 2019. Over the next two years over half of all consumers will interact with some form of Artificial Intelligence on a regular basis. IBM recently took a survey of over 600 companies using AI on different levels and created a Cognitive Global Market Report, within the report we found 5 top reasons to claim cognitive technology like Watson is the future of Business Technology.
Benefits of Artificial Intelligence
Already users have begun to see the power of Artificial Intelligence on their business outcomes. One of these benefits include a greater efficiency in customer relationships. 62% of users say that AI implementations have meet or exceed their expectations. Users who have been using Artificial Intelligence for some time have gained a greater benefit from AI's cognitive behavior due to their system continuing to learn and adapt over time.
One of the major benefits users reported was with their customer service. 49% of users within the report found improved customer service through better self-service bots, agents having more accurate intelligence, and other cognitive learning skills that help with customer service. More advanced users found that customer engagement was increased due to being able to respond faster to market needs due to data that has been gathered. For companies that still operate on a green screen interface, this type of technology can drastically increase their customer service needs.Here are some more of the benefits fond with current users of Watson's AI technology:

Motivation for Using Artificial Intelligence
Just like any other strategic technology, artificial intelligence relies on executive support to move forward in any business. According to the latest IBM report, over 50% of early adapters of AI were pushed by leadership mandates. Beyond C-Level pursuit of AI, there is a push from developers with a desire to use AI for business experimentation to help lead a broader and deeper cognitive use of artificial intelligence. This trend shall continue to excel as APIs and development platforms widen and access to AI becomes easier.
Within all of the companies that were surveyed during this report there was a wide range of motivations for introducing cognitive technology into a business' current structure: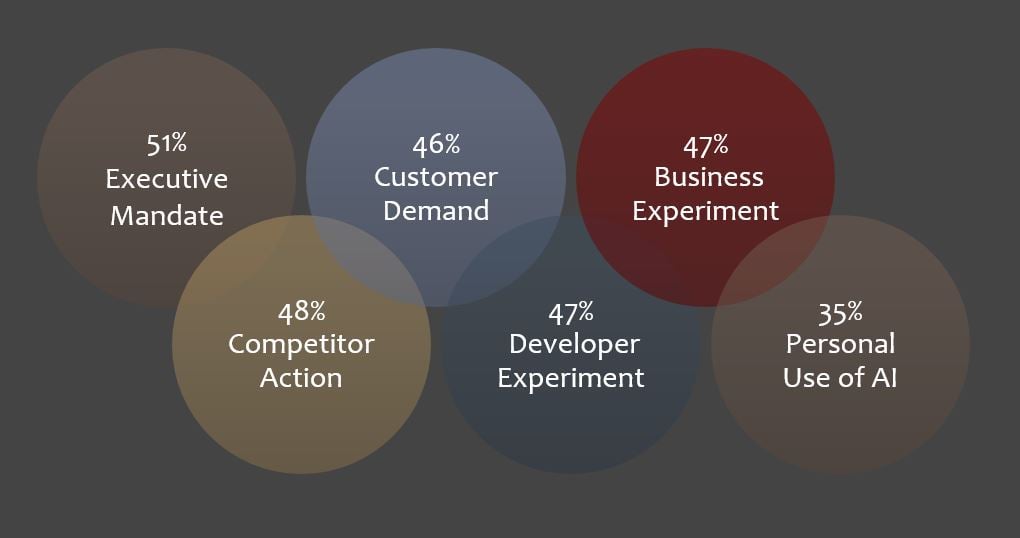 Developers Play a Big Role
Although C-Level leadership ultimately make the final decision on major business technology, developers can and do play a huge role in the choices of technology that can push a business into the future, and artificial intelligence is no different. Developers looking for a new approach to modernize their applications are at the fore front of this push for new Watson like technology.
Among the developers surveyed within the report, 60% said they have a major role in decisions in recommending AI technologies to their organizations. In contrast, only 35% of non-developers surveyed reported the same.

Addressing Challenges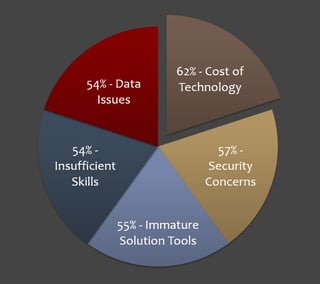 All new technologies have challenges that arise. Early organizations that have implemented cognitive technology have helped create a road map for those that are adopting AI technology now. Even with these road maps, artificial intelligence is still new and there are still many challenges that organizations had when it came to the survey.
As you can see there is a wide range of concerns with the new technology, but with any new technology there will be those who will continue to create the road map that will help cool these concerns.
Cost is the largest concern, as it is with most business technologies, coming in at 62%. That is followed by Security concerns at 57%, Immature Solution Tools at 55%, Data Issues at 54% (quality of data, integrating and converting data, volume of data, etc.), and Insufficient Skill Levels at 54%.
Concerns like these are what keep companies from breaking out of their norm and trying new technologies, but the truth of the matter is that new technology like Watson and its AI counterparts can help solve many of the current issues companies face. Using a vendor like Profound Logic to help with the transition to Watson can help alleviate some of those concerns surveyed above.
Functional Use of Artificial Intelligence
Within the past few years we have seen a steady increase in the use of Artificial Intelligence like Watson within business technology. Now we are starting to see companies not only experimenting with cognitive technology, but actually implementing it into their day to day practices. Many companies have long desired to integrate more modern functionality into their systems. AI can be that modernization tool for them! Profound Logic makes it easy for you to integrate AI like Watson into your IBM i system with Profound.js.
The simple solution can keep you from falling behind in your business technology, attract new and talented developers, as well as streamline your best business practices with cognitive technology like Watson. Whether you have been using AI within your organization already, just experimenting, or are in the planning phases... Profound.js can make the transition with AI easy and painless, creating a functional use for any need you might have in your company.