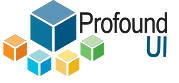 Profound Logic Software is pleased to announce the release of Profound UI 4.8!
Profound UI is an integrated suite of tools that makes modernizing green-screen applications and developing new web and mobile applications easy. Profound Logic was the first company to provide a handler for RPG Open Access, and continues to offer the most native, open and standards-based modernization solutions available.
This release brings a number of powerful new features and capabilities to the platform, including:
Support for Independent Auxiliary Storage Pools (IASP)
'Alias' Descriptive Field Names
Browser detection flags
Full Support for Internet Explorer 11
New JavaScript API and Events
CEO Alex Roytman describes the driving force behind this release: "RPG is a vibrant, modern coding language. We believe that modern applications begin with modern code and development practices, and we're excited to give developers the tools they need to get more from their code than they may know is possible."
Read more about this release here
Alex and IBM Champion/ Modernization Redbook Author Brian May will share tips for modern RPG development on February 12 in a live Webcast featuring Barbara Morris. Click here to sign up for the Webcast.