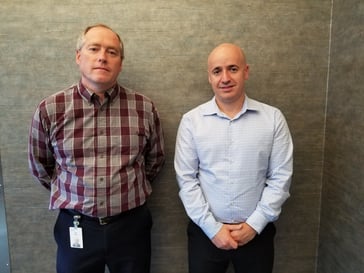 Alex Roytman meets with IBM's Business Architect for Application Development, Tim Rowe, at IBM's 'Driveway to Watson' Event
Earlier this month, IBM and COMMON held an eye-opening event in Rochester, MN, the home of IBM i.
The 2-day event, cleverly named "IBM i Driveway to Watson" introduced IBM customers and business partners to BlueMix Cloud and Watson AI capabilities, all from an IBM i operating system perspective. Customers from all over the world were able to see firsthand how IBM i applications can integrate with cloud and artificial intelligence technologies.
A variety of topics were covered, including Agile Development, Open Source, Design Thinking, Data Analytics, and Web Services.